In November of 2018, the most destructive, deadly fire in Californian history swept through Butte County. It hit the hardest in the towns of Paradise, Concow, and Magalia. As a result, almost 12,000 homes were destroyed. In May, an estimated 1,000 plus families still haven't been able to secure even temporary housing.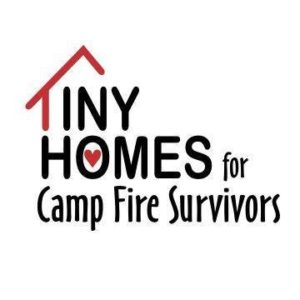 Local resident and community hero, Alyssa Nolan-Cain felt compelled to help in a big way. Beginning with by herself, with no construction knowledge, she set out to build a tiny house for someone who lost everything in the fire. Through this experience, she inspired others to join her. It was her tragic experience of losing her own home in a fire 11 years ago, that inspired her to help others. Alyssa has now organized a growing community of volunteers and donors. She is bringing together individuals, businesses, nonprofits, and faith-based groups to build safe, fully-functional tiny homes for Camp Fire survivors in dire need. 
Tiny Homes for Camp Fire Survivors currently have over 500 people on their waiting list. To date, they have given away eight tiny houses on wheels with several more under construction.
Lifetime Paradise resident, Tina was one of the first tiny house recipients. She lost everything in the fire, except her car. Thanks to a Butte County Emergency Housing Ordinance, Tina was able to place her tiny house wheels on a small lot in Paradise.
To learn more about Tina's experience and this inspiring community giving effort, watch this video.
How-To Help Tiny Homes for Camp Fire Survivors:
See Full Needs List & Important Updates on Facebook
Weekly Volunteer Schedule: Tuesdays-Thursdays, 8:30 am-3 pm, and Sundays, 9 am-3 pm, at 1790 Montgomery St, Oroville, CA (behind the old Ford Dealership)
Fundraiser by Tiny By Logan: stickers, shirts and a tiny house song download
For other ways to help or to get on the list to receive a tiny house, contact: campfiretinyhomes@gmail.com